The Fish House and Atlas Oyster House are located at 600 South Barracks Street in downtown Pensacola, just steps away from the historic Seville neighborhood. The Seville Harbour complex where both restaurants are located overlooks beautiful Pensacola Bay. We are a walk-in only restaurant, with a Florida casual dress code.
The Fish House overlooks beautiful Seville Harbour and Marina. Transient slips are available and can be secured by call Marina Management 850-432-9620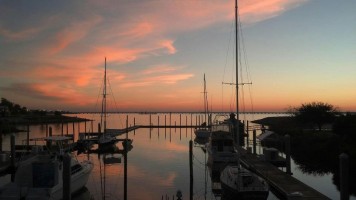 From Interstate 110 & parts north: Take the final exit (1B, Chase Street) and turn right immediately at Ninth Avenue. Follow it to the water and take a right on Bayfront Parkway. Barracks Street is the first street on the left.
From Pensacola Beach & parts east: Travel west through Gulf Breeze on US 98, crossing the three-mile bridge over Pensacola Bay. Stay to the left and follow Bayfront Parkway along the water. Barracks Street is the first left after William Bartram Memorial Park.
From NAS Pensacola & parts west: From Navy Boulevard, go east on Barrancas Avenue (SR 292) and cross the Bayou Chico bridge. Take a right at Main Street and follow it into downtown Pensacola. After crossing Palafox Street and the railroad tracks, take a right into Barracks Street.
There are several parking lots available to The Fish House and Atlas Oyster House guests: 50 spaces in front of the Seville Harbour complex, 150 spaces on the south side of the complex, and 75 spaces in the lot across Barracks Street. In addition, overflow parking is available at the gravel lot to the south of Seville Harbour and the Bartram Park and Florida Public Archaeology Network lots to the north of Seville Harbour.
Permit accessible parking as well as an entry ramp to the complex are located on the south side of The Fish House.