A LITTLE SOMETHING ABOUT US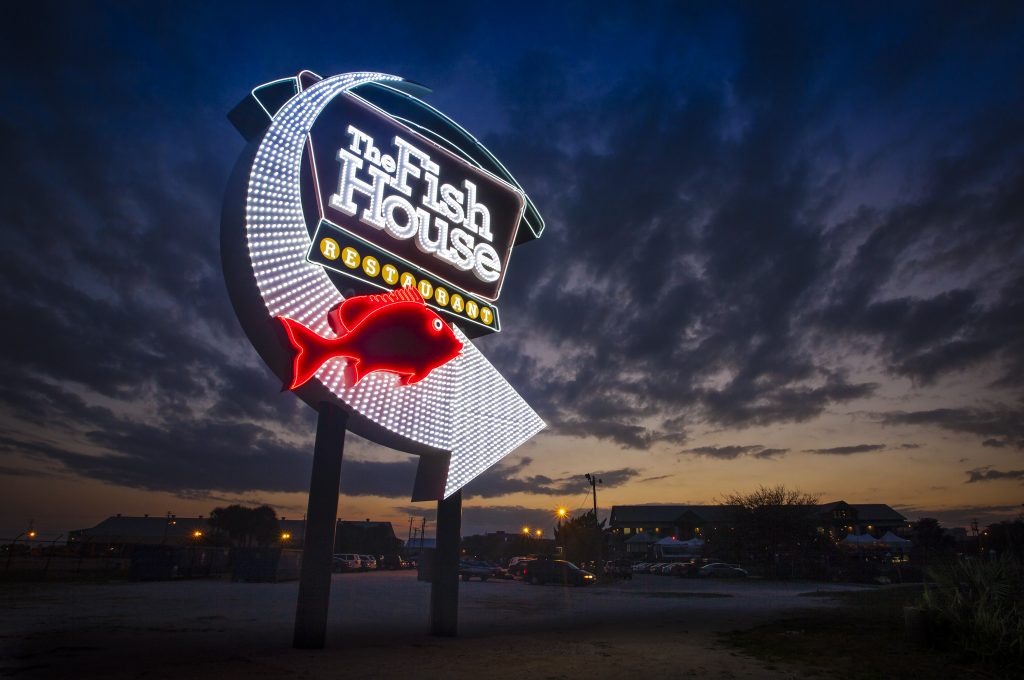 In 1998, there wasn't much going on downtown. It had been all but abandoned. Lifelong Pensacolians Collier, Burney, and Will Merrill, themselves instinctively steeped in Southern traditions, saw the potential of our historic downtown waterfront and wanted to liven up this paradise for locals and visitors alike. The quest was to remind family, friends, and visitors what true Southern hospitality includes—enjoying a few drinks, gathering over a great meal, and listening to good music, all the while overlooking scenic Pensacola Bay. A Southern seafood joint? That would do the trick.
Our first mission at the Fish House was to whomp up some good grits for 2,000 people as we welcomed Governor Jeb Bush to our historic district, right next door, in Seville Square. Collier recruited his good friend, Congressman Joe Scarborough, and his band, Regular Joe, to be our house musicians. From then on, we have attracted a catalog of distinguished celebrities—entertainers, athletes, politicians, pundits, and those who serve—as well as everyday folk, just like us, to our tables.
The Fish House was on to something. Folks liked what we were doing, so in 2002 we decided to welcome sister restaurant Atlas Oyster House to the family. For over two decades we have been proud to be pioneers of downtown Pensacola's resurgence, still serving up good times, fresh, local fish, and good grits—spooning up more than a million servings of our "world famous" Grits à Ya Ya—and picking up prestigious awards and far-flung recognition along the way.
Thanks to you, our guests, for all of the good memories we have had. We look forward to all of the good times to come. Bon eats!
The Fish House is a Pensacola tradition. For over two decades, the Fish House has been known for its fresh seafood cuisine coupled with upscale dockside dining overlooking beautiful Pensacola Bay and Seville Harbor.
Just steps away from historic Seville Square, the award-winning restaurant features an inventive menu of fresh, daily seafood selections, house-smoked steaks, sushi, and the world-famous Grits á Ya Ya: A delectable Southern specialty of our smoked Gouda cheese grits smothered with a sauce of fresh cream, sauteed Gulf shrimp, spinach, portobello mushrooms, applewood-smoked bacon, garlic, and shallots. Full bar. Late night menu. Brunch on Sundays.
With over half a million visitors a year, locals and tourists alike enjoy the cuisine as well as the views from the restaurant's waterfront location. Inside and outdoor dining are both available.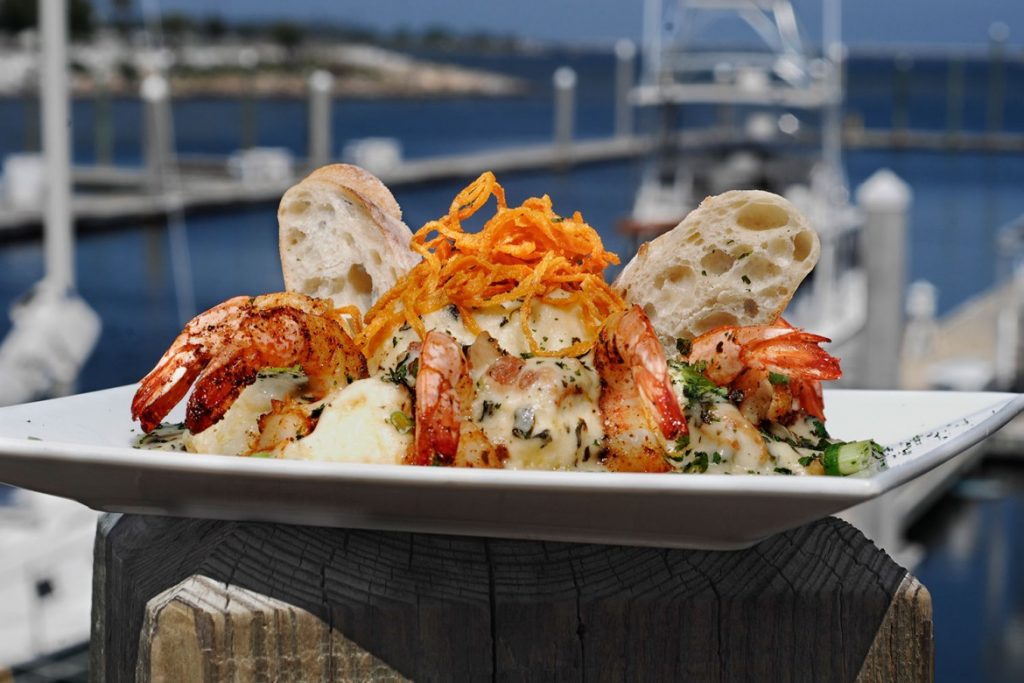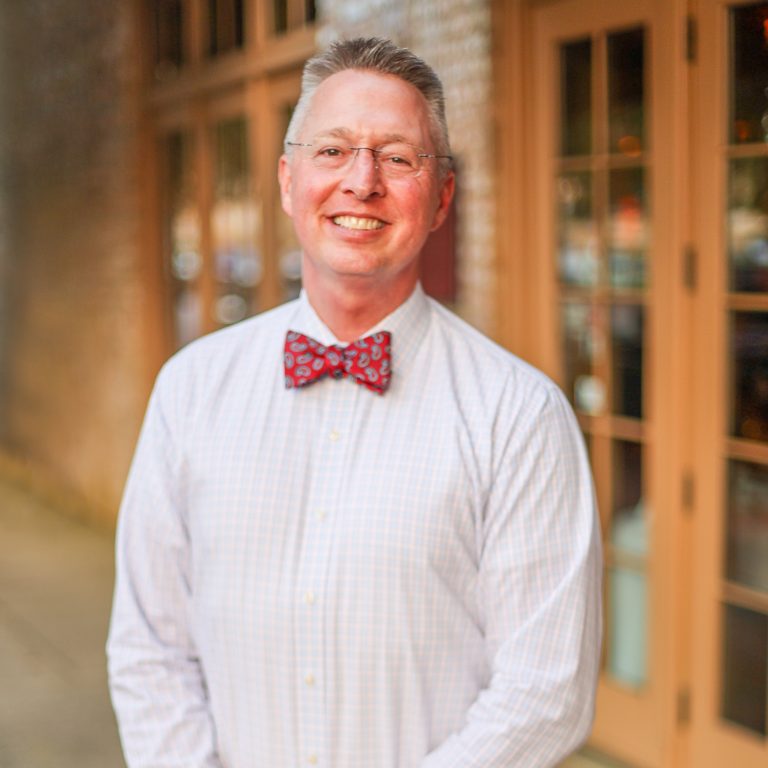 DIRECTOR OF OPERATIONS, GREAT SOUTHERN RESTAURANTS
Born in Blue Island, Illinois and raised in San Diego, California, Steve enlisted in the Navy upon graduation from high school. He honorably served as a Hospital Corpsman and was stationed in Okinawa Japan, Guantanamo Bay Cuba, and Panama City Florida. He moved to Pensacola in 1998 and began his employment at The Fish House as a server. He moved quickly up the ranks and accepted the General Manager position in 2001. During his tenure he oversaw the addition of Atlas Oyster House and The Deck Bar, as well as the demolition and subsequent rebuilding of The Fish House due to hurricane Ivan.  In 2009, he was promoted to the prestigious General Manager position at Jackson's Steakhouse where he led his team to provide exemplary service and an extraordinary fine dining experience. In 2015, he was named Director of Operations for Great Southern Restaurants. Eskridge is dedicated to providing genuine hospitality, making sure our guests receive the highest level of service.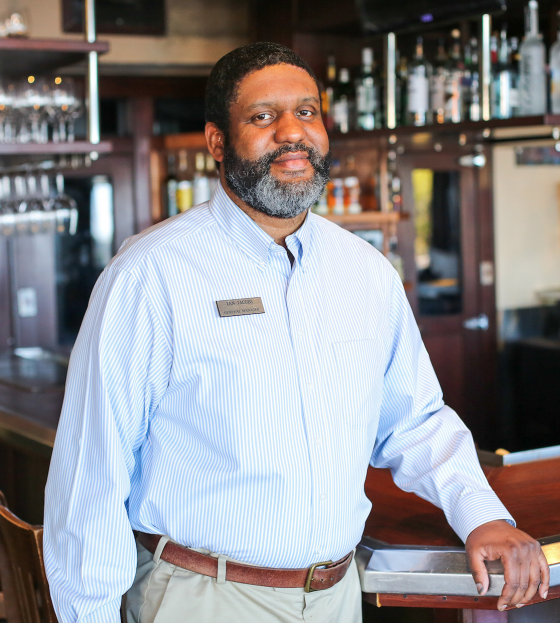 GENERAL MANAGER, THE FISH HOUSE AND ATLAS OYSTER HOUSE
Jacobs was born in Lafayette, Louisiana. After several moves, including Hawaii, his family moved to Pensacola in 1989 when his father became an Electronic Warfare Instructor at Corry Station. Jacobs graduated from Escambia High School 1997 and joined the Navy in 1998. After being stationed in Chicago for boot camp and Connecticut for submariner school, he was sent to Norfolk, Virginia to report for submariner duty and was station on the USS Montpelier for 3 years. After his enlistment, Jacobs came back to Pensacola and attended the University of West Florida where he studied Hospitality. After graduating, he went to work for Innisfree Hotels and worked his way up to Assistant General Manager where he gained 20 years of hospitality experience. Jacobs started working for Great Southern in 2013, and continues to lead our team as General Manager.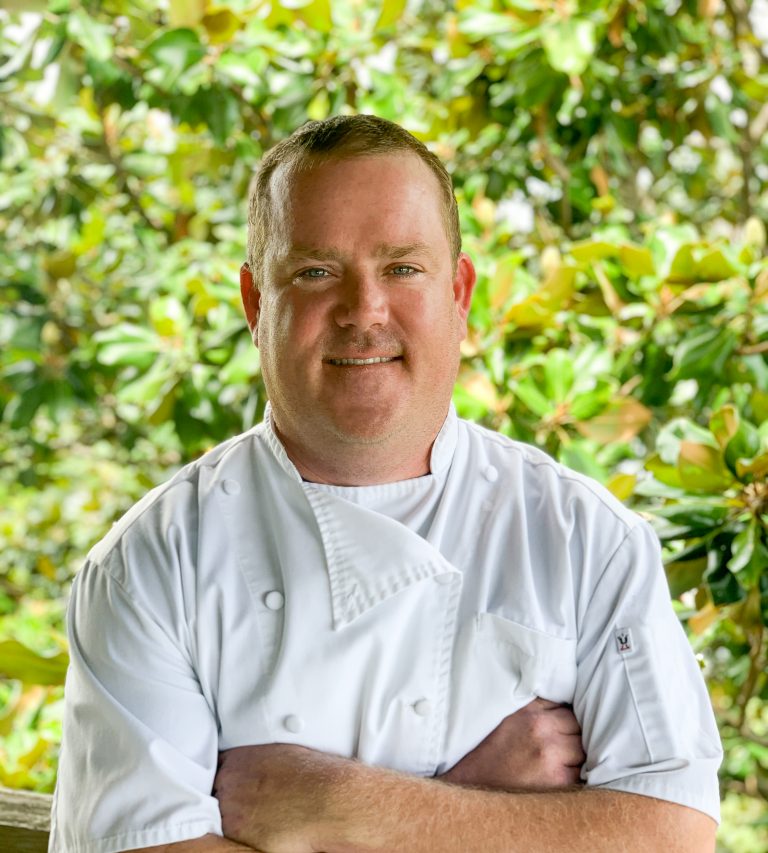 CULINARY DIRECTOR, GREAT SOUTHERN RESTAURANTS
Chef Ballou graduated from Johnson & Wales College in Charleston and studied culinary arts. After college, he went backpacking through Scotland and England, experiencing different cultures and cuisines. Upon his return to the United States, he spent two years as a sous chef for Legendary, Inc., and then moved on to an opportunity with the Great Southern Restaurant Group, where he worked his way from prep chef to executive chef.  He has served as executive chef for Great Southern for over a decade.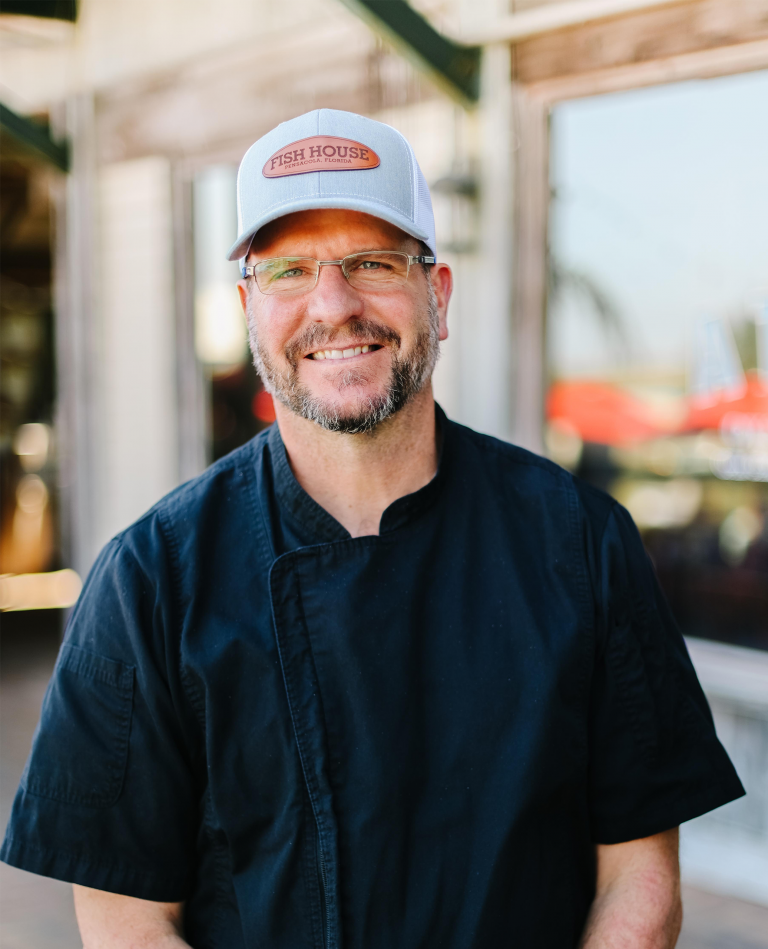 EXECUTIVE CHEF, THE FISH HOUSE AND ATLAS OYSTER HOUSE
Pensacola Native, John Huggins returned to the Panhandle in 2002 after fifteen years in Richmond, Virginia.  During that time, John received his culinary degree from J. Sargeant Reynolds College.  Huggins started his cooking career at Bistro Express, a French Provincial inspired restaurant under the direction of CIA Alum Chef Robert Ramsey.  Huggins joined McGuire's Restaurant Group upon returning to the Panhandle.  Prior to joining Great Southern Restaurant Group, Huggins owned and operated La Brisa, a restaurant in Gulf Breeze for five years. Huggins has served as Chef de Cuisine to Chef Billy Ballou at the Fish House for 15 years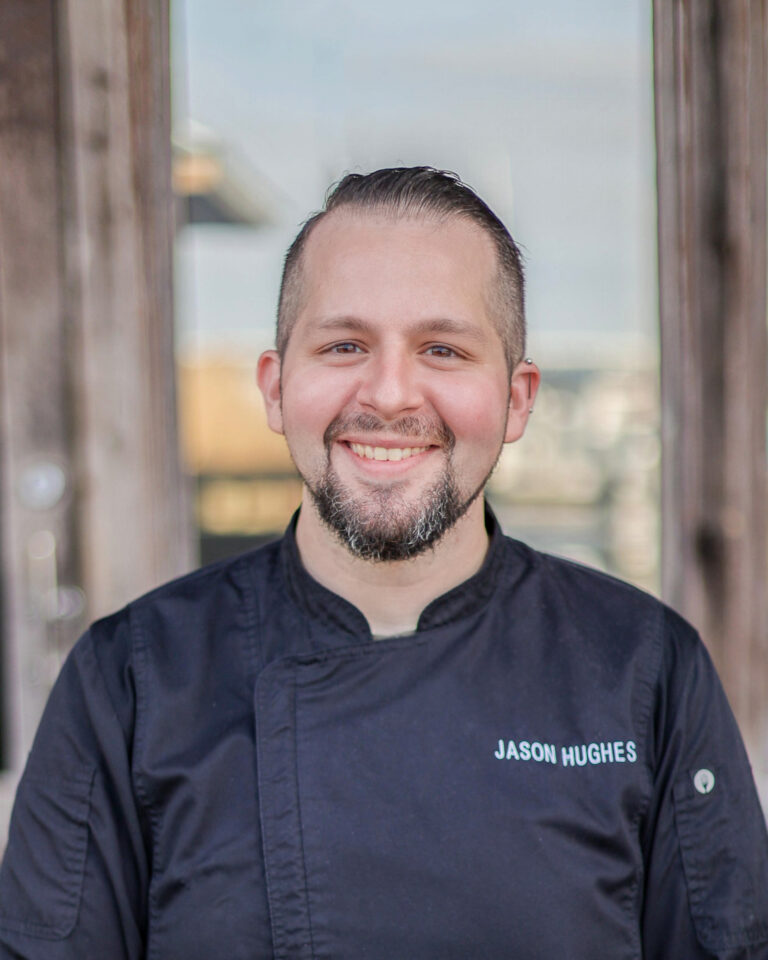 CHEF DE CUISINE, THE FISH HOUSE AND ATLAS OYSTER HOUSE
Chef Jason Hughes was born in Mobile, Alabama and grew up in Gulf Breeze, Florida and Daphne, Alabama. His first job was as a line cook and dishwasher at the age of 16.  He attended the University of South Alabama as an English major, but left school to move to Boston, Massachusetts, where he worked in a downtown bakery-cafe for 3 years.
Chef Jason returned to the Gulf Coast in 2009, and soon began work as sous-chef at Stinky's Fish Camp in Santa Rosa Beach. He then served as Chef de Cuisine at Stinky's Fish Camp in Navarre. He took his first Executive Chef position at The Club at Hidden Creek at the age of 27. In 2015, Chef Jason joined The Fish House as Chef de Cuisine. He left in 2017 to accept the position of Executive Chef at The Grand Marlin on Pensacola Beach, which he held until returning to The Fish House in 2022.
Chef Jason loves the demanding competition, teamwork, and ever-evolving nature of the restaurant industry. After working along the Gulf Coast from Orange Beach to 30A, he ultimately felt drawn to the atmosphere of downtown Pensacola, with its burgeoning culinary scene and many talented chefs. Chef Jason feels it is a privilege to be a part of and to help grow that scene, and to cook and serve every day the bounty of local fresh seafood and produce our area has to offer. He moonlights as a ranch hand on his father's farm in north Okaloosa County, and lives in Pensacola with his wife and three sons.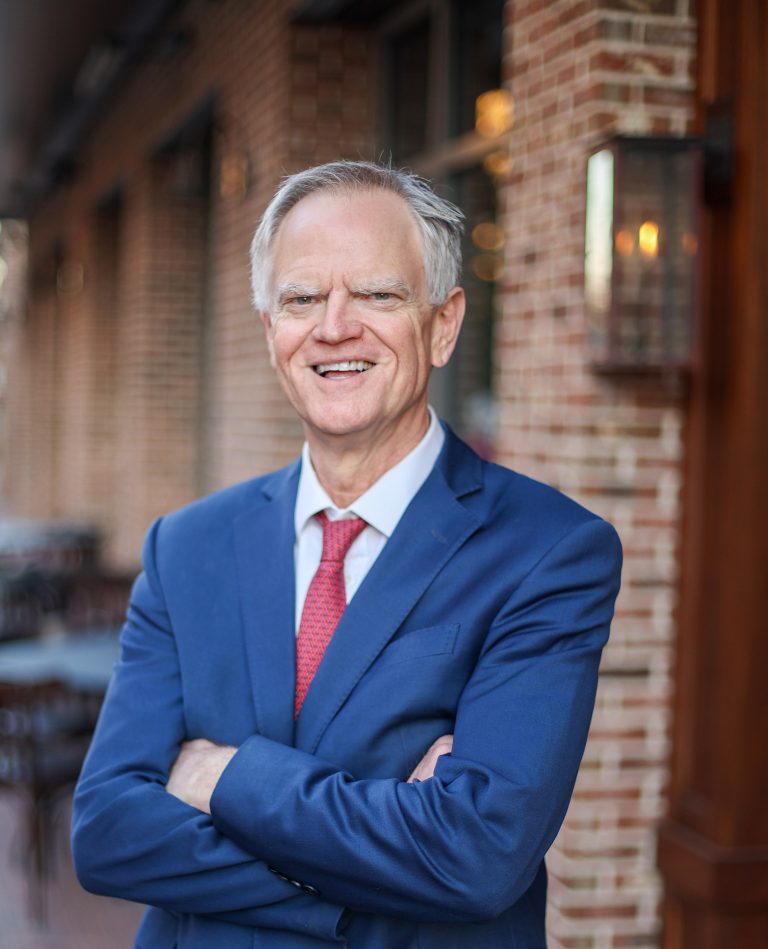 PRESIDENT, OWNER, GREAT SOUTHERN RESTAURANTS
Mr. Collier Merrill is the president/owner of Merrill Land Company, a real estate development company, which specializes in commercial real estate, residential and commercial construction as well as condominium and subdivision development along the Northwestern Gulf Coast. He is the president/owner of Great Southern Restaurants, Inc., which owns and operates The Fish House, Atlas Oyster House, Jackson's Steakhouse, Five Sisters Blues Café, Angelena's, The Palafox House, and Great Southern Events.  Additionally, Merrill is serves as a stockholder and director of The Gulfarium: A Marine Adventure Park.  Merrill is a graduate of the University of West Florida with a Bachelor of Science degree in Business Management.
Merrill is an active participant in the community, currently serving as Chairman of the University of West Florida Historic Trust. He also serves on the Naval Aviation Museum Foundation and board of directors of Ascension Health Florida.  Additionally, he is a trustee emeritus of the Pensacola Museum of Art, a member of Christ Church where he serves as a member of the vestry, and a member of the Pensacola Downtown Rotary Club.
Previously, Merrill has served in a number of community leadership roles: chairman of Visit Pensacola overseeing an annual budget of $10 million focusing on tourism and economic development; chairman of the Community Maritime Park Associates which governed and managed a $65 million community development project in downtown Pensacola; chairman of the Pensacola Bay Area Chamber of Commerce; chairman of the Pensacola-Escambia County Promotion and Development Commission; chair of the Destination 2020 Strategic Planning Committee; chairman of the Florida Arts Council; president of the Pensacola Museum of Art; and president of the Home Builders Association of Northwest Florida.  He has also served as a member of the boards of the University of West Florida, Pensacola State College Foundation, Catholic Social Services; Pensacola Chapter of the American Red Cross and served as a mentor for Big Brothers/Big Sisters.
Additionally, Merrill has served in a number roles related to both public and private community development. Merrill was appointed by Governor Jeb Bush to serve as a member of the Board of Regents which governed all of the universities for the State of Florida carrying with it a fiduciary responsibility of $2 billion. After his service on the Board of Regents he was tapped to be the founding chairman of the University of West Florida Board of Trustees (2000-2004) overseeing the successful growth of the University and it's $150 million annual budget. Merrill was also selected by Governor Rick Scott to serve on the Gulfcoast Consortium.
Merrill has been recognized and named Art Education Hero by the Florida Cultural Alliance, an Outstanding Volunteer Fundraiser by the National Society of Fund Raising Professional, and a Paul Harris Fellow of Rotary International, received the Downtown Rotary Club's Grover Robinson Award for Service, and was named the University of West Florida's Distinguished Alumni of the Year.  In addition, Merrill was a recipient of the Pensacola Area Chamber of Commerce's awards for Emerging Leader and Community Leader.