About
The Fish House is a Pensacola tradition. For over fifteen years, the Fish House has been known for its fresh seafood cuisine created by Pensacola Chef Jim Shirley coupled with upscale dockside dining overlooking beautiful Pensacola Bay and Seville Harbor.
Just steps away from historic Seville Square, the award-winning restaurant features an inventive menu of fresh, daily seafood selections, house-smoked steaks, sushi, a handpicked wine list with over 300 wines, and the world-famous Grits á Ya Ya: A delectable Southern specialty of our smoked Gouda cheese grits smothered with a sauce of fresh cream, sauteed Gulf shrimp, spinach, portobello mushrooms, applewood-smoked bacon, garlic, and shallots. Full bar. Late night menu. Brunch on Sundays.
With over half a million visitors a year, locals and tourists alike enjoy the cuisine as well as the views from the restaurant's waterfront location. Inside and outdoor dining are both available.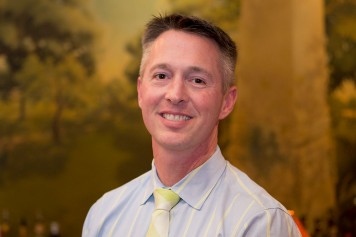 Steve Eskridge
Director of Operations
Born in Blue Island, Illinois and raised in San Diego, California, Steve enlisted in the Navy upon graduation from high school. He honorably served as a Hospital Corpsman and was stationed in Okinawa Japan, Guantanamo Bay Cuba, and Panama City Florida. He moved to Pensacola in 1998 and began his employment at The Fish House as a server. He moved quickly up the ranks and accepted the General Manager position in 2001. During his tenure he oversaw the addition of Atlas Oyster House and The Deck Bar, as well as the demolition and subsequent rebuilding of The Fish House due to hurricane Ivan. In 2009 he was promoted to the prestigious General Manager position at Jackson's Steak House where he and his team continue to provide exemplary service and an extraordinary dining experience.
Jim Shirley
Founding Executive Chef & Co-Owner
Jim Shirley is co-owner of Great Southern Restaurants, which owns The Fish House, Atlas Oyster House, and The Fish House Deck Bar in Pensacola, Florida, and is co-owner of the Great Southern Café in Seaside, Florida. In keeping with the times, Jim's latest endeavor, also in Seaside, is a food truck, called The Meltdown on 30A, that specializes in grilled cheese sandwiches. For years he wrote a weekly column, "Good Grits!" for the Pensacola News Journal, and now writes on a regular basis for the newspaper's columns "Chef's Corner" and "Wine Time."
Chef Jim is a member of the state board of directors of the Florida Restaurant and Lodging Association (FRLA) and president of the Northwest Florida Chapter of FRLA, founder and president of the Society of Great Southern Chefs, and a member of the Southern Foodways Alliance. As an active community leader, he dedicates time to many charities, including the Children's Home Society of Florida (a board member of the Western Division), and is a board member of the Autism Society of the Panhandle.
Jim opened his first restaurant, Madison's Diner, in Pensacola in 1995, opened the Screaming Coyote in 1997, and the Fish House in 1998. His style of cooking is one that he calls modern Southern cuisine. As the son of a Navy pilot who was stationed all around the world, Jim learned to enjoy a variety of cuisines from many cultures. But he always went back to his roots—his grandmothers' traditional Southern cooking. His expertise is combining different flavors in ways unlike anyone else. He has appeared on the Travel Channel's show "Bizarre Foods with Andrew Zimmern." He was also chosen to go to Washington, D.C., to feature his signature dish, Grits à Ya Ya, in "A Taste of the South" event.
Jim uses Southern accents with great skill and spirit, traveling far afield to graze and glean, absorbing culinary ideas and selecting wines. As a Pensacola native, Chef Jim uses his knowledge of local waters and his families' farming history to promote the "new ruralism," a movement to promote sustainable agriculture at the urban edge.
Jean Pierre N'Dione
General Manager
Born in Senegal, West Africa, and raised in Toulouse, France, Jean Pierre moved to New Hampshire in 1998 for 9 months to try something new but ending up cutting his stay short from the cold and relocating to sunny Pensacola, Florida. He began his employment at the Fish House as a server in 2001 and discovered his passion for the restaurant industry and only 11 months later was promoted to Service Manager; in 2009 he became the General Manager of the Fish House, Atlas Oyster House, and the Fish House Deck Bar. In January of 2010, Jean Pierre decided to make his residency official, he applied for and was granted U.S. citizenship; shortly thereafter he graduated from our own University of West Florida with a Bachelors degree in Accounting. When it comes to our restaurants Jean Pierre's philosophy is to ensure all of our guests feel welcome and have the most memorable dining experience at Our House.
Billy Ballou
CHEF, GREAT SOUTHERN CATERING & EVENTS
Chef Billy Ballou has taken over the helm of Great Southern Catering and Events, located within our event venue, the Palafox House. In addition, Chef Billy will be presenting food and wine events at Lee House, our sister property.
Chef Billy attended Johnson & Wales College in Charleston and studied culinary arts. After college, he went backpacking through Scotland and England, experiencing different cultures and cuisines. Upon his return to the United States, he spent two years as a sous chef for Legendary, Inc., and then moved on to an opportunity with the Great Southern Restaurant Group, where he worked his way from prep chef to executive chef. Chef Billy looks forward to his new role of expanding Great Southern Catering and Events through catering off-site as well as within the Palafox House.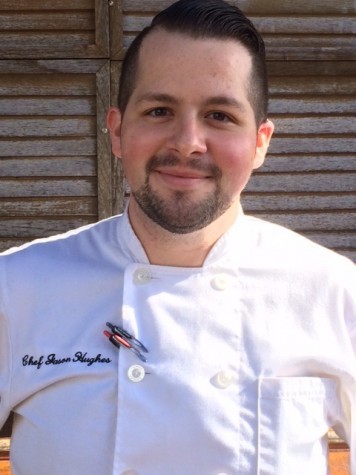 Jason Hughes
CHEF DE CUISINE, THE FISH HOUSE AND ATLAS OYSTER HOUSE
Chef Jason Hughes is the Chef de Cuisine at The Fish House and Atlas Oyster House. He was born in Mobile, AL and raised on the Gulf Coast. Chef Jason worked as a line cook throughout high school, and advanced quickly into kitchen management positions. After spending a year at the University of South Alabama, he decided on a change of scenery and moved to Boston, MA where he worked his way through bakeries and cafes. Jason returned to Pensacola in 2009 with a more diverse culinary experience. Chef Jason brings to The Fish House a unique leadership style based on teamwork and mutual respect. He and his team focus on providing the highest level of quality and service, and aim to always exceed their guests' expectations. Chef Jason is excited to lead the kitchens at The Fish House and Atlas Oyster House, and proud to be a part of the Great Southern Restaurants team.